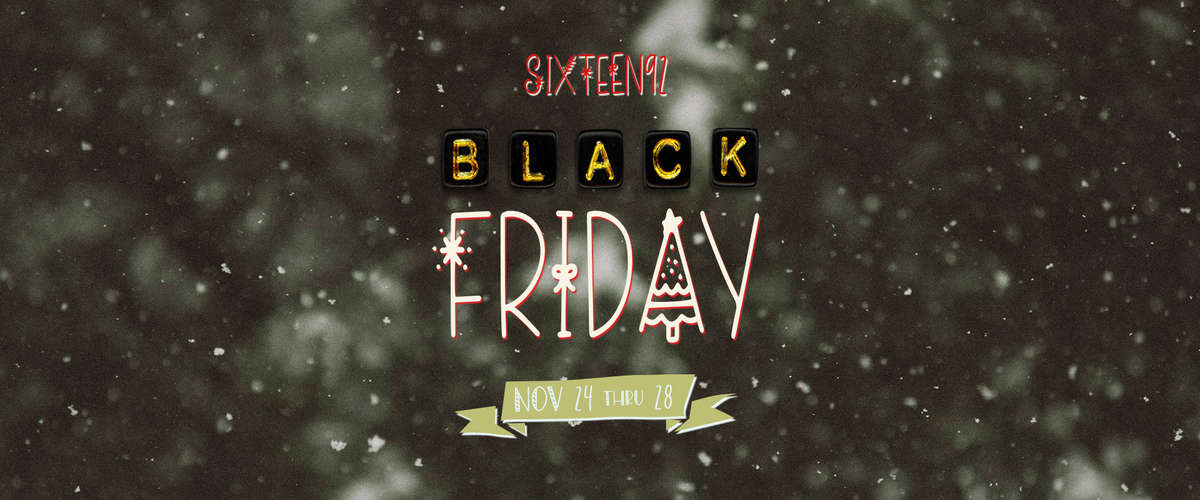 BLACK FRIDAY IS HERE!
JOIN US FOR A JOLLY HOLIDAY WEEKEND
The party starts Thursday 11/24
THURSDAY 11/24 - MONDAY, 11/28

All orders save 15% with code MERRY

Spend $60 and save 20% with code BRIGHT


Spend $125 and save 30% - no code needed!

Sale begins at Midnight CST on 11/24!
(that's 11:59:59 pm Wed 11/23)
All times listed in Central Standard time (GMT - 6:00)
EXCLUSIVE GIFT WITH PURCHASE
Orders $50 & up (after discounts & before shipping) receive your choice of one of our three exclusive Black Friday 6ml perfume oils, FREE (see below for notes).

As usual, this year's Black Friday Exclusives will also be available for regular purchase throughout the Black Friday event (while stock lasts), but your free gift does not need to be added to your cart for the deal to apply. See below for full details :)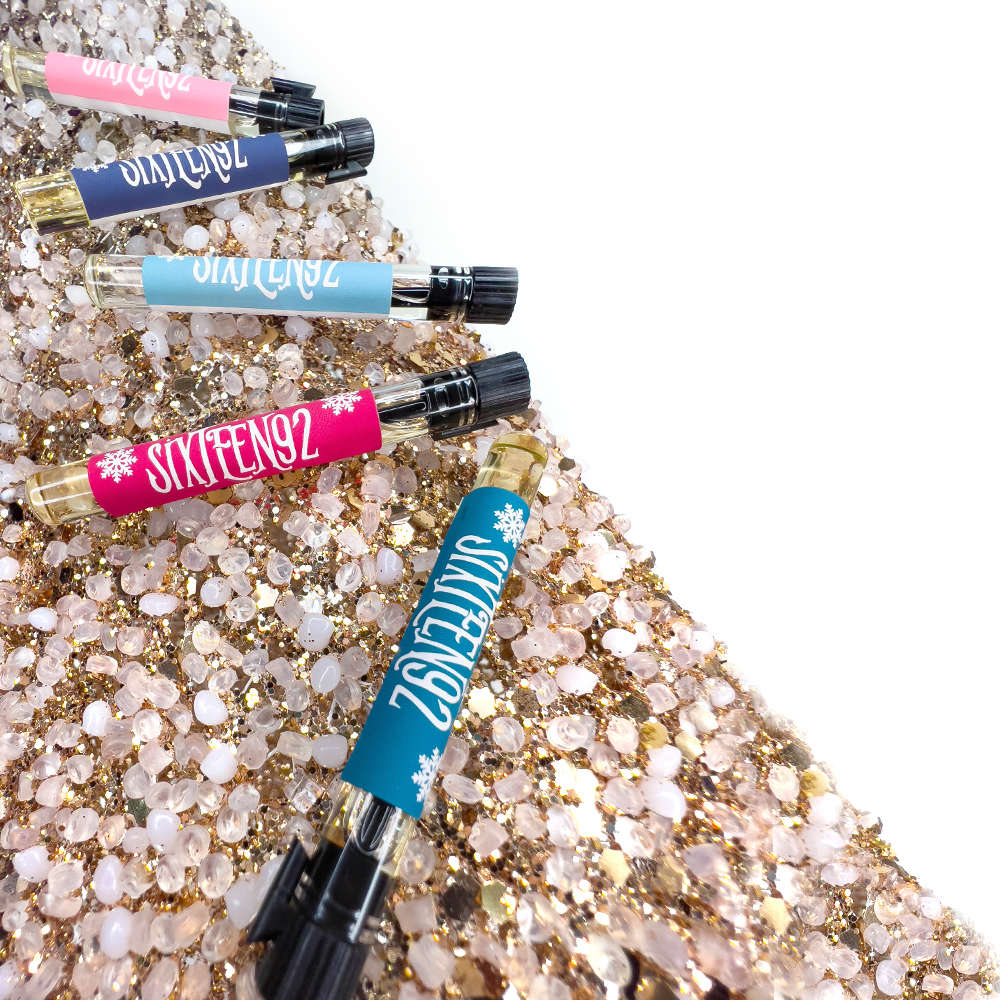 NEW COLLECTION RELEASES
HOLIDAY 2022 COLLECTION

Our Holiday 2022 Collection features four of our favorite festive fragrances returning from previous years, along with two brand new additions. Available November 24 through approx early January.

⛸️ ALL IS BRIGHT : Quiet snowfall, brisk winter ozone, warm peppermint tea, tightly laced ice skates on a glistening frozen pond
🧣 COMFORT & JOY : Dark roast coffee spiked with honeyed brandy and rich winter spices, warm wool, dried cranberry, golden raisin
🌲 MIDWINTER DUSK : Chilled evergreen boughs and bunches of mistletoe, a blanket of evening frost, distant sleigh bells, the soft glow of gas lamps on snowy cobblestone streets
🔔 SLEIGH BELLS RING : A warm mug of spiced cider, a dusting of powdery snow, velvet ribbons, down blankets, cinnamon sugar (New)
🔥 SOLSTICE BONFIRE : Dark rum, grey ash, black amber, firewood bales, pine needle, charcoal, cedar, & billowing smoke on crisp winter air
🕯 TO ALL A GOOD NIGHT : Swirls of tranquil incense, flickering farolitos, piñon and juniper wood, far-off carols drifting on desert wind (New)
A limited number of samples & sample sets will be available from this collection. If you'd like to purchase samples it is recommended that you do so early, as these tend to sell out. This is to ensure that everyone has enough time to try their samples before the collection is retired. Full sizes will be restocked periodically throughout the availability period, while supplies last.

Holiday collection fragrances are available in perfume oil extrait (2ml, 6ml, and 10ml - including collection sets), SuperNatural hair serums, AURA linen sprays, and Parfum extrait (10ml travel size only, limited stock).

(In previous years the Winter collection has been released alongside the Holiday release; similarly to last year, the Winter release will happen a bit later in the season this year -- date TBA).
BLACK FRIDAY EXCLUSIVE TRIO / GIFT WITH PURCHASE
A limited edition trio of Holiday fragrances available Thursday through Monday.
Orders $50+ after discounts and before shipping/tax will receive your choice of one of these three fragrances as an exclusive Gift With Purchase for the duration of our Black Friday sale! Note your selection in the Order Notes section at checkout, or send an email that includes your order number within 24 hours of placing your order and we'll note your selection (if no selection is made we will choose one for you).

All three will also be available for individual purchase Thursday - Monday or while stock lasts.
Limit ONE gift bottle per qualifying order. 6ml perfume oil extrait only


🧹 BEFANA 🥀
Black currant and dried fig, black pepper, forest berries, pressed flower petals, creamy amber, winter spices

🐐 KRAMPUS 🌲
Smoky birch, black cloven hooves, charred spruce, dry tobacco, blood orange, black ice, a worn leather sack

🎅🏼 SINTERKLAAS 🕯
Cake flour and sugared dough, royal icing, mulled wine, foil-wrapped candies, speculaas cookies, a cozy hearth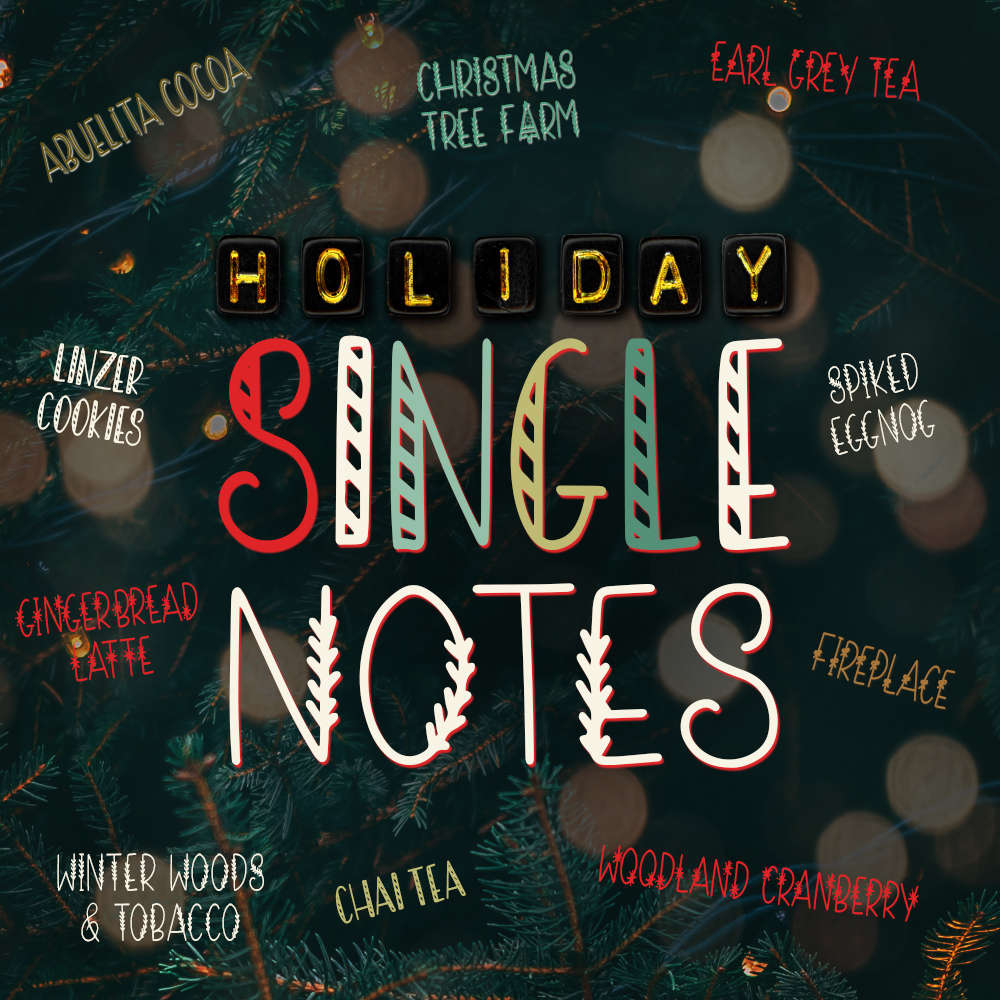 HOLIDAY LAYERING / SINGLE NOTES
I've mixed up something special to brighten your holiday season -- a whole collection of festive single notes/layering fragrances! You might recognize a couple of these as returning from previous years' layering sets, but lots of them are brand new accords, perfectly suited for layering or wearing on their own (because sometimes you just want to smell like a tree farm or like you bathed in tea, and don't let anybody tell you that's weird)

Available in 6ml & 10ml perfume oil extrait, linen mists (limited stock), and hair care.

These will not be restocked after Black Friday weekend and are available only while limited stock lasts!


Abuelita Cocoa
Chai Tea
Christmas Tree Farm
Earl Grey Tea
Fireplace
Gingerbread Latte
Linzer Cookies
Spiked Eggnog
Winter Woods & Tobacco
Woodland Cranberry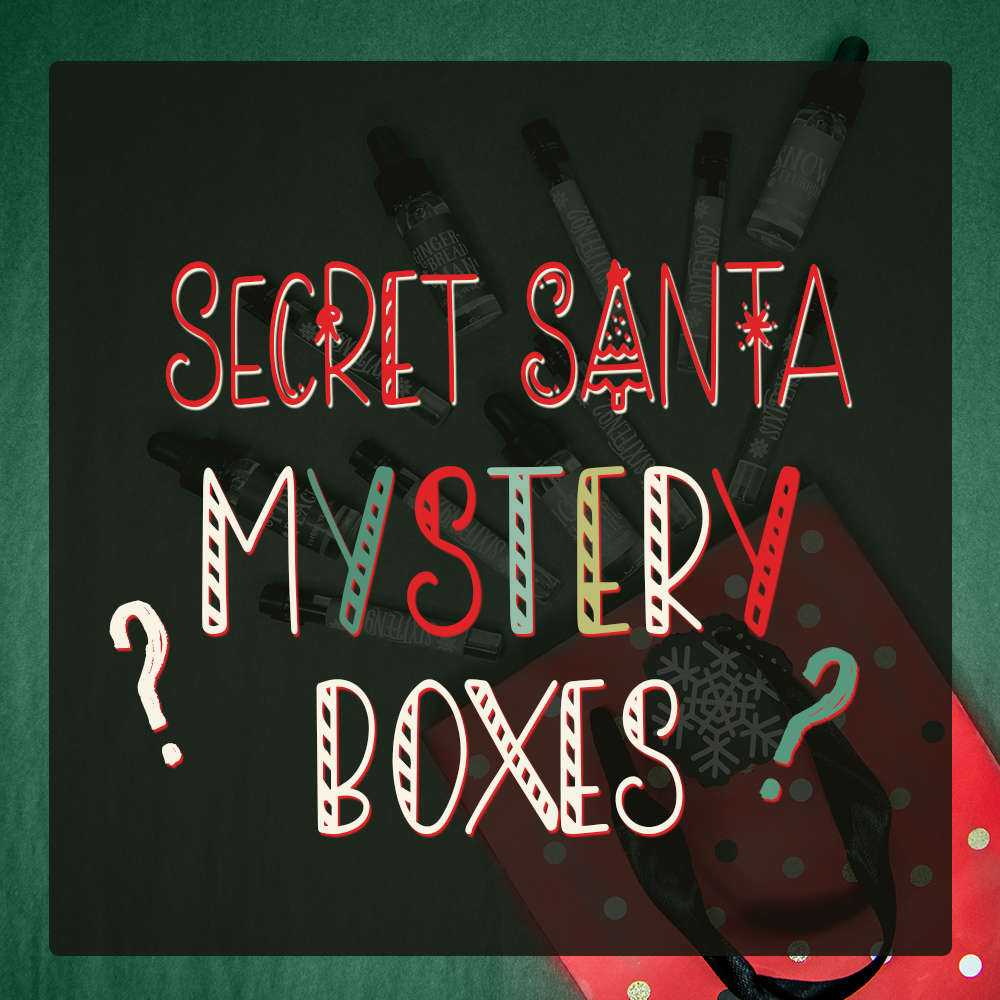 🎅🏼 Be your own secret Santa! 🎅🏼
These were so popular last year that they're BACK and better than ever.

Holiday MYSTERY BOXES will be available in two sizes:
Stocking Stuffer (mini box) - $45 (retail value $65+)
Gift Box (deluxe box) - $65 (retail value $95+)
All boxes contain a mix of samples/minis and full sizes, and can include GC best-sellers, seasonal items, limited editions, and exclusives (and maaaaaybe even a surprise discount code or gift card ;) ).
Every box will contain multiple fragrance items and at least one hair care and/or home fragrance product.


I'll be releasing these in multiple drops — if you miss the first round, or the release timing isn't compatible with your timezone, I'll be dropping more throughout the weekend.
Restocks + Misc. Additions
I've scheduled several restocks for Black Friday weekend so that there will be plenty of stock during the sale. The following is a list of scheduled restocks:


Perfume Oils - Most general catalogue and current seasonal collections in all sizes (including Autumn/Fall, Halloween, and November Legacy).
AURA linen mists - will be available in Holiday 2022 Collection, Holiday single notes/layering collection, and a limited batch of Falloween and GC options.
Hair Care - SuperNatural hair serums will be restocked in all GC, seasonal, and holiday fragrances (including the Holiday Layering collection). Detangling hair mists and Sea Salt hair mists will be stocked in Holiday and Holiday Layering collections only. There may be a small amount of remaining hair mist stock in GC/seasonal collections but these are all that is available for now.
Parfums - Many Parfums will be restocked, but quantities are always a bit more limited for Parfums than perfume oils. It is recommended that you order Parfums early if you've had your eye on one, as the next major Parfum restock will not be able to happen until after the holidays.
HOLIDAY PROCESSING / TURNAROUND TIMES
While a majority of Holiday Collection and GC stock will be Ready To Ship, some items (including limited editions, Legacies, and some hair care/home fragrance stock) will be bottled to order and may require additional lead time prior to shipping. Processing times will be posted on the website's top banner and I will endeavor to keep this updated with the most accurate shipping estimates possible.


Due to seasonal postal delays, I am unfortunately unable to *guarantee* holiday arrival for ANY Black Friday sale order. Please know that I will be doing everything possible to ship orders as quickly as I can, but I am just not comfortable making guarantees that may not be able to be met this year. If your order contains gifts PLEASE leave a note to that effect in the order notes at checkout (or reach out within 24 hours of placing your order) and I will do my best to accommodate if at all possible!


If you need a last-minute or time-sensitive gift, please remember that we do offer
gift cards
which are delivered electronically!

Details & Important Information
SALE DATES & TIMES: Sale will start Thursday 11/24 at midnight CST (11:59:59pm 11/23) and end at 11:59pm Monday 11/28. All times are Central Standard Time.


SALE CODES & DISCOUNTS: Discounts cannot be "stacked." Please choose the available promotional code that offers you the most savings. Where applicable, codes must be entered on the last checkout page prior to confirming your order, and discounts do not apply to orders placed before 11/24 or after 11/28. Discounts apply to in-stock items only. No rain-checks and no discount adjustments for orders placed outside of the sale period outlined above.


GIFT WITH PURCHASE: Limit one gift with purchase per qualifying order. Gift With Purchase is only available for orders placed between Thursday, 11/24 and Monday, 11/28 (12:00am Thursday through 11:59:59pm Monday, Central Standard Time). Qualifying purchase amount must be met with a single order -- sorry, no combined orders to reach the $50 purchase requirement. To receive the free gift your order must total $50USD after any discounts, and before shipping/tax. No substitutions. You may choose one of the three available scent options. Please note your selection in the Order Notes section at checkout or email us your selection (include your order number) within 24 hours of placing your order. If you do not make a selection we will choose one for you. The GWP will be added to your qualifying order manually and will not appear on your invoice or order/shipping confirmation emails. It is all taken care of on our end by our staff of in-house holiday fragrance elves.
COMBINED SHIPPING: We are not able to guarantee combined shipping and are unable to hold any orders during Black Friday, nor will we be able to hold any orders placed prior to Black Friday to combine with Black Friday orders. In some cases I may catch and combine orders placed on the same day, at my discretion, but cannot guarantee that any orders can be combined during the Black Friday sale. I apologize for any inconvenience and thank you for your understanding!

CHANGES TO ORDERS/ADD-ONS: We are not able to add items to an order once it is placed. If you forgot an item, you will need to place a second order for that item, but please remember that we will be unable to guarantee combined shipping for any Black Friday sale orders. I apologize for any inconvenience. PLEASE double-check your order before placing it so that no one is left in an unfortunate predicament!


SAMPLES: Samples will be available for all Holiday 2022 collection fragrances (including discovery sets). Samples will NOT be available for the Holiday Layering Fragrances/Single Notes or the Black Friday Exclusive trio, as these are limited edition products.